Juggling your personal, school, and work life and actually getting things done (GTD) can be very challenging. Task managers can help you stay organized and keep you on track. There are a number of web-based applications out there that can get the job done. Most are free and allow you to upgrade for a small fee to gain access to extra features. I have collected a list of them below and graded them according to their ease of use, design, number of features, and integration with other Web applications.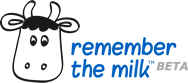 Remember The Milk (A+): Remember The Milk (RTM) is my personal favorite because it integrates with Gmail, it has a nice and simple user-friendly design, I can access and edit my tasks from my mobile phone (m.rememberthemilk.com or direct messages), add tasks via email, and it offers tons of more features. It also works well with Jott, Google Calendar, iGoogle, NetVibes, Twitter, Firefox, Internet Explorer, Safari, iPhone, and iPod Touch. In addition you can access your account offline via Google Gears and sync tasks on your Windows Mobile phone with MilkSync, which enables you the ability to sync your RTM tasks with your email client's tasks (Outlook, Entourage). Finally, you can receive reminders via email, SMS, and instant messenger (AIM, Gadu-Gadu, Google Talk, ICQ, Jabber, MSN, Skype and Yahoo! are all supported).
Smartsheet (A): Excellent corporate project and task manager with spreadsheet design that works great for sharing live to-do lists as well. Integration with Jott and lots of features including file uploading and sharing

Nozbe (A): Very well designed project and task manager with mobile access (m.nozbe.com) and integration with Jott, Twitter, Jabber, iPhone, iGoogle, NetVibes and Apple Dashboard
I Want Sandy (A): Great personal assistant, task manager, and reminder utility that works seamlessly with Jott and integrates with many calendars (e.g. Google Calendar, 30 Boxes, iCal, Outlook 2007) and others apps (i.e. Twitter, Widgetbox, Jabber) as well.
UPDATE: I Want Sandy sadly had to close her doors and is no longer available. We will all miss her dearly.
Toodledo (A): Great task manager with many extras including integration with Google Calendar, Jott, Twitter, Firefox, iGoogle, Netvibes, Pageflakes, Apple Dashboard, iPhone, RSS, iCal, etc…
Vitalist (A-): Very nice with lots of features, can integrate with Jott and Twitter, and can access from desktop using VitaDesktop application
Todoist (B-): Fairly elaborate task manager with some integration with other apps
Voo2do (C+): Nice to-do manager with some good features
Tudu Lists (C): Simple to-do list with sharing
Bla-bla List (C): Basic to-do list with sharing and emailing of tasks
RoughUnderbelly (C): Simple to do lists with nice point system integration and performance graphs to track your productivity
OrchestrateHQ (C): Basic to-do lists with drag and drop feature
Ta-da List (C): Bare bones to-do list
Tasktoy (C-): Basic to-do lists with notes
follow us
or
subscribe to the site
to stay up-to-date with this article. If you'd rather follow us from your Facebook account, join
our Facebook fan page
or
subscribe to our NetworkedBlogs profile
.
Please Tweet, Bookmark, or Share This Free Content Using These Services:
Related Articles You Are Probably Interested In: